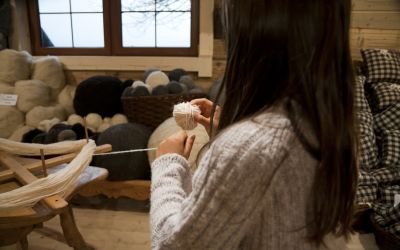 Baca Piotr Kohut runs traditional cultural grazing of around 1,100 sheep in the Silesian and Żywiec Beskids, taking care of the preservation of cultural heritage and biodiversity in mountainous areas.
In our family-run Shepherd Center in Koniaków you can see examples of Carpathian shepherd animals: sheep, goat and cows, learn how to make traditional regional cheeses, or take part in educational workshops related to folk handicrafts and wool processing. As part of our Center
Shepherds include: a traditional wooden hut - a shepherd's hut, where we make cheese, gazdowka with live animals and an interactive shepherd exhibition - everyone will find something for themselves, both preschoolers and school children, youth, adults and elderly, and we especially recommend our farm to extended families - we will show you how to work with wool you can spend an interesting time together creating utility items, decorations and even works of art.
Our Pastoral Center is located on the hamlet of Szańce, from where they extend
beautiful views of Ochodzita, Tyniok and Barania Góra, as well as the Polish-Czech-Slovak border.
First of all, shepherding gives us the opportunity to truly cultivate highlander traditions, rituals and customs in everyday life. Our Pastoral Center is a place where our extended family often spends time, especially during summer holidays, so don't be surprised that you will find our children here - weaving on looms, carding wool or feeding lambs.
An interactive learning path with wool processing is available to all visitors free of charge, so you can go ahead and try your hand at combing, spinning, needlework, weaving and felting. We invite you to annual shepherd events in Koniaków, such as:
"Miyszani Owiec" in May, "Tastes of the Carpathians - Time for Bryndza" on the long weekend of Corpus Christi, "Sheep shearing" in July, "Shepherd's Fair" in August and "Rosód sheep" in September.
Open all year - from from 10:00 to 18:00. Free parking for both cars and buses and a children's playground in the summer. Right next to it is the Góralski Store - with regional souvenirs and highlander's costumes from the Trójwsi region
Beskidzka, which is also worth seeing, the more that these are not museum exhibits, but authentic costumes worn in the Silesian Beskids nowadays. Next to it is the Lace Museum and the Gallery - a creative chamber - where you can see lace and ceramics handicrafts, folk instruments as well as painting and sculpture of local folk artists.
We also run cheese-making demonstrations with tasting, pastoral lectures and educational handicraft workshops for groups - min. 20 people - they are organized for a fee after arranging an appointment and establishing a detailed program.
Dane kontaktowe
Koniaków Szańce 33 43-474 Koniaków Telefon: 694 844 840 @: kolyba@op.pl
Link do strony
http://seroscypek.pl/
Lokalizacja